Vendors will
love you.
Powerful seller center for marketplaces to
earn commissions, engage vendors, and make more sales.
Fully integrated with Shopify.
Trusted by marketplaces in any industry
Generate commission
Built-in commission
Garnet automatically compute the financials of order lines and refunds. Set commission for each vendor.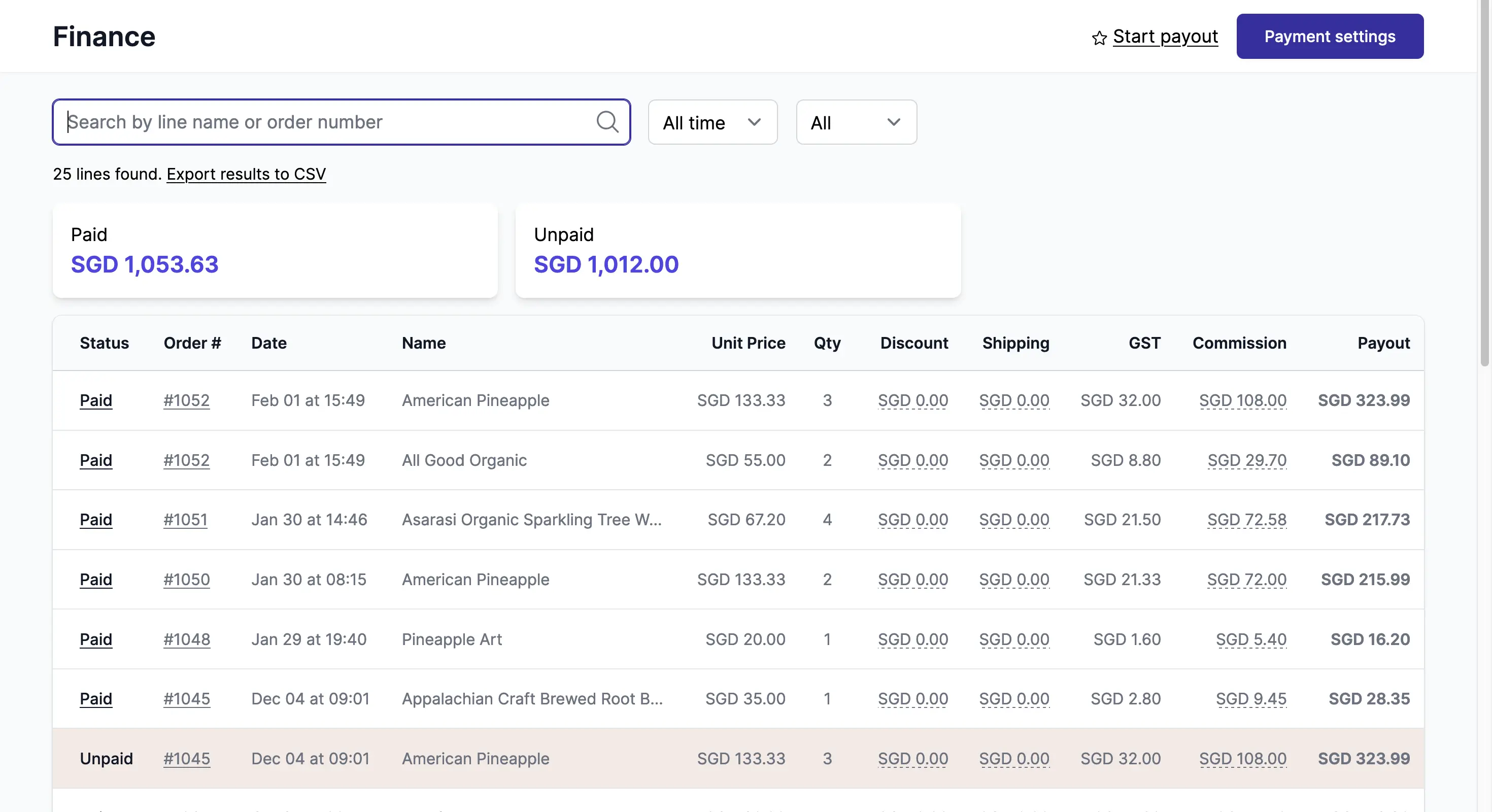 Product import
Bring more products
Vendors can easily create and update products. Supporting manual entry, CSV, Shopify integration, and more...
Order management
Consult.
Ship. Fulfil.
Vendors manage orders as their own. Powerful search and filters.
Synchronise with Shopify.
Responsiveness
Access anywhere
Take a picture from your phone or your tablet, you can create products and ship orders without hassle.
Try it on your Shopify store now
Pricing built for businesses of all sizes.
Built-in features for all plans
Onboarding

We personally onboard you to have Garnet Marketplace set up and running within a week.

We take care of the migration for free if you already have a similar system.
Integrations

We are committed to simplifying the vendor experience.

Vendors that manage their inventory through a third-party system can synchronise their products, orders, and tracking in real-time.

We are also integrated with payment systems, logistic partners and subscription systems.

Garnet supports more than +20 integrated systems, including API and webhooks support.
Vendor page

Most marketplaces want to advertise their vendors. Explicitly showing who is behind the products gives credibility and trust to your website.

Each vendor can edit their vendor page, consisting of a profile picture and bio.

We do not enforce any design, you can use your marketplace theme to customize the vendor page.
Invoicing

Accounting is important for the marketplace, the vendors, and the customers. That's why invoices are generated for each sale and each payout.

You can integrate invoices in your workflow with our API integrations.
Logistic partners

Garnet support tracking from more than 90 logistics companies.

Everytime an order is fulfilled, it will generate the corresponding tracking URL, accessible in your email to send to the customer.

Garnet integrates gracefully with other apps. All your existing automation, such as email notifications, will not be disrupted.
Product approval

Let your customers browse your vendors with a search bar and filters.

You provide the design from your theme. There is no design constraint.
Vendor approval

A marketplace must curate their listings to have the best quality content. Prevent assortment mismatch, make your branding more consistent, and increase credibility.

Be notified every time a products needs your approval and bulk approve them.

Of course you can customize Garnet to add product guidelines to mitigate incorrect product submissions.
Registration page

A great way to spend less time curating the list of products is to curate your vendors.

Especially for B2C marketplaces with dozens of news vendors per day, you will have better quality control and fraud prevention by reviewing vendor profiles.

Your judgment is what makes your marketplace unique.
Vendor directory

Simplify your vendor onboarding by asking industry-specific questions. It ensures you have better matchmaking between your vendors and your marketplace.

Add as many fields as you need in any format. Vendors are likelier to work with you when you ask the right questions.
Order tracking

Some vendors bring large assortment and it is important to simplify data manipulation as much as possible .

With Garnet, vendors can filter and export their products and orders. They can upload the file back to submit the update.
Export to CSV

A product should at least have a title and a price, but businesses have more complex products than that.

Add up to 250 additional fields to your products to ensure the quality of your data with structured data.

All the additional fields can be used to create collections, or to be displayed on your store.
Audit logs

Audit logs

Are you looking to go back in time to understand what happened to a product or an order?

Send us a request and we'll come back to you with the detailed audit log of what happened in the last 90 days on your Garnet account.